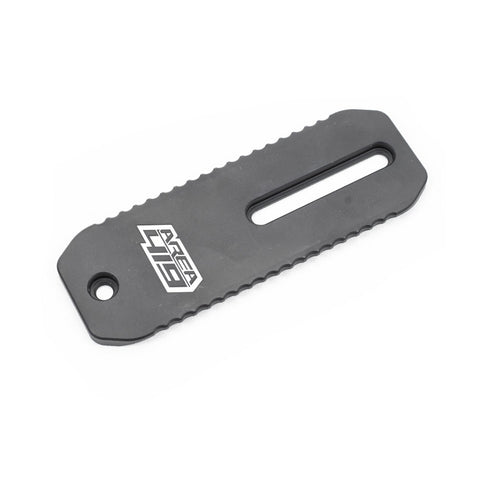 Area 419 Arca-Lock 4.25" M-LOK Rail
PLEASE INQUIRE FOR CURRENT STOCK STATUS OR LEAD TIME PRIOR TO ORDERING
The Area 419 Arca-Lock M-LOK Dovetail Rail System improves on the standard Arca-Swiss rail design by allowing it to lock in place rather than rely on friction only as with a standard Arca-Swiss rail.  Serrated rail edges interface with compatible Area 419 ballheads to prevent forward or backward movement for a more stable platform.
The Arca-Lock M-LOK Rail System is designed to work with M-LOK rail systems and is compact enough to mount closer to the mag well.  
PLEASE NOTE:  THE AREA 419 ARCA-LOCK RAIL IS PROPRIETARY AND ONLY COMPATIBLE WITH ARCA-LOCK BALLHEADS.  CLICK HERE TO ORDER THE CORRECT BALLHEAD FOR THIS RAIL.
Features
Designed for Heavy Weapons and Precision Shooting
Compatible with Area 419 Arca-Lock Ballheads
Compatible with M-LOK Rail Systems
4.25" Length
Made to the RRS 1.5" Dovetail Standard for proper fit
All corners are rounded and edges chamfered.  No sharp edges
Type 3 Hard Coat Anodized for durability
Constructed with USA Type 6061-T6 Aluminum
Made in USA from USA components
Weight: 1.5 Ounces
Mounting hardware included
Items Included
Area 419 Arca-Lock Universal Rail
Mounting Hardware