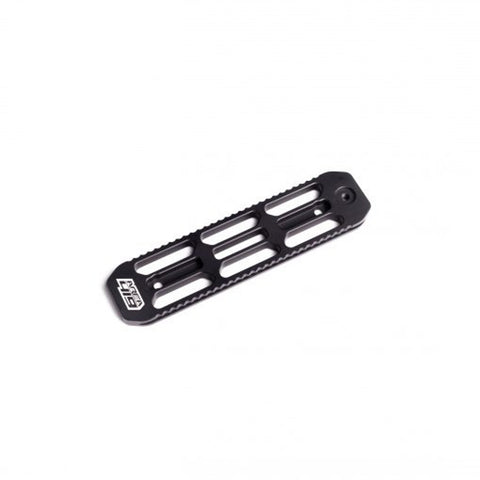 Area 419 Arca-Lock 6" M-LOK Rail
PLEASE INQUIRE FOR CURRENT STOCK STATUS OR LEAD TIME PRIOR TO ORDERING
The Area 419 Arca-Lock M-LOK Dovetail Rail System improves on the standard Arca-Swiss rail design by allowing it to lock in place rather than rely on friction only as with a standard Arca-Swiss rail.  Serrated rail edges interface with compatible Area 419 ballheads to prevent forward or backward movement for a more stable platform.
The Arca-Lock M-LOK Rail System is designed to work with M-LOK rails and utilizes three M-LOK slots for secure attachment to the weapon.  It is six inches in length, which is about twice the length of the clamp surface making mounting in the dark easier.
PLEASE NOTE:  THE AREA 419 ARCA-LOCK RAIL IS PROPRIETARY AND ONLY COMPATIBLE WITH ARCA-LOCK BALLHEADS.  CLICK HERE TO ORDER THE CORRECT BALLHEAD FOR THIS RAIL.
Features
Designed for Heavy Weapons and Precision Shooting
Compatible with Area 419 Arca-Lock Ballheads
Compatible with M-LOK Rail Systems, Requires 3 Slots
6" in Length
Made to the RRS 1.5" Dovetail Standard for proper fit
All corners are rounded and edges chamfered.  No sharp edges
Type 3 Hard Coat Anodized for durability
Constructed with USA Type 6061-T6 Aluminum
Made in USA from USA components
Weight: 2.2 Ounces
All mounting hardware is included
Items Included
Area 419 Arca-Lock M-LOK Rail
Mounting Hardware