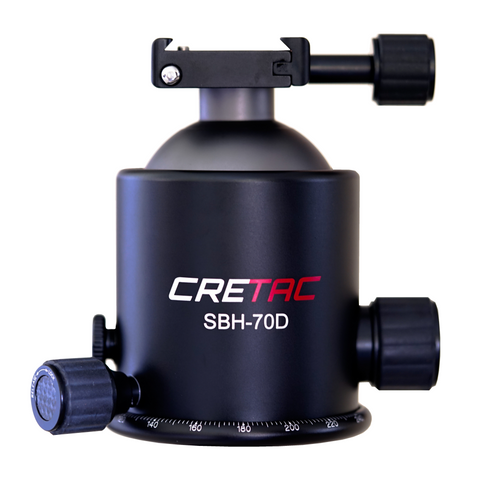 FEISOL CRETAC SBH-70D 70MM Ball Head
Durable yet Precise Design for Large Tripods - Now even easier to operate

For durability that does not compromise precision in operation, look no further than the FEISOL CRBH70D Ball Head. FEISOL has developed the CRBH70D to its own exact specifications, using the highest quality alloys and CNC-precision manufacturing.

Among its features is a cutout for portrait mode photography. A Quick Release Plate QP-144750 is included.

The brand-new FEISOL CRBH70D Ball Head inherits the superior stability of its predecessor, as well as the time-proven functionality of its smaller cousin, the CB-50D, culminating in an instrument which truly combines the best of both worlds.

The CRBH70D is designed to support medium and large format cameras and weapons on our large series tripods. With its integrated panning function, this ballhead is your large tripod's perfect companion for any setting.

FEISOL Ball Heads meet the highest standards of precision, accuracy, and durability to deliver flawless operation day after day, year after year. Trust FEISOL to offer the finest products available to bring your creative capabilities to the next level.  Backed by a 3-year factory warranty. 
Recommended Mounting Systems
Night Vision Outfitters M-LOK / KeyMod Arca-Swiss Adapter
Feisol CRETAC Picatinny / Arca-Swiss Adapter
Kopfjager Reaper Grip Direct Mount
Recommended Tripods
Feisol CRETAC 3372 Heavy Duty Carbon Fiber Shooting Tripod
Two-Vets "No Name" Carbon Fiber Shooting Tripod
Feisol Tournament CT-3342 Ultralight Carbon Fiber Shooting Tripod