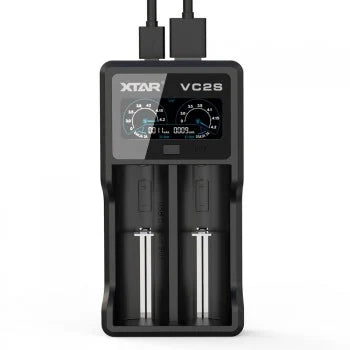 XTAR VC2S Li-Ion Battery Charger
The XTAR VCS is a high quality battery charger that will work with most common types of rechargeable batteries.  It features a digital display which includes voltage, charge rate, and estimated charge capacity.  It includes a USB charging cable and is compatible with all USB sources (computer, cell phone wall adapter, USB charging battery, automotive USB outlets).
This charger will work with batteries commonly used in many thermal scopes, such as the N-Vision NOX, N-Vision HALO, AGM Fuzion, AGM Varmint, etc.  Also most flashlights and IR-illuminators will run on these types of batteries. 
Common Compatible Batteries
16340 (Rechargeable CR123)
16650 (Trijicon IR Hunter IRX Kits)
17500 (Trijicon Reap-IR IRX Kits)
18650 (N-Vision, AGM)
Features 
LCD display with current charge rate, voltage display, estimated charged capacity, and internal resistance meter.
Estimated charged battery capacity feature. Measures how much capacity has been charged into your battery +/- 5% tolerance.
USB Powerbank/out capability
Automatically stop charging when complete and restart charging function, so you can keep the batteries inside the charger overnight
Reverse polarity and charger short circuit protection
ABS durable fireproof shell with perfect heat dissipation and high temperature resistance
Compatible with any USB power and wall adaptors, no need to spend extra money to buy more wall adaptors
0V activation function can rescue your over-discharged batteries. (This feature for advanced users only, charging over-discharged batteries is generally a safety concern)
Three stages of charging (TC-CC-CV) to maximize your batteries' lifespan
Input voltage: 5V 2.1A
Charge current: 1A x 2 / 2A x 1
Cut-off voltage: 4.2V +/- 0.05V / 1.45+/-0.1V
Cut-off current: <= 150mA
USB Output: 5V 1A 
All Compatible Batteries 
10440/14500/14650/16340/16650
17500/17670/18350/18490/18500
18650/18700/21700/20700
22650/25500/26650
NOTE: Protected 21700 and 20700 do not fit in the VC2S
Included Items
VC2S Charger
USB Cable
Instruction Manual